Tay Lab People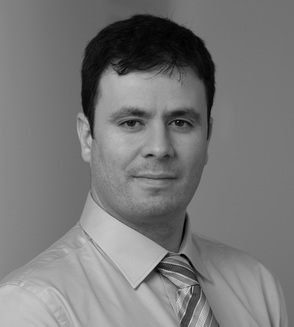 Professor Savas Tay
tays@uchicago.edu
​
Postdoc, Bioengineering, Stanford University, 2008-2011
PhD, Optical Sciences, The University of Arizona, 2007
BS, Physics and Education, Marmara University, 2000
Dr. Tay is Associate Professor at the Institute for Molecular Engineering and Institute for Genomics and Systems Biology, at
The University of Chicago
. Before moving to Chicago in 2016, he was an Assistant Professor of Bioengineering at the Department of Biosystems Science and Engineering at
Swiss Federal Institute of Technology
, ETH Zurich.
Savas Tay is a systems biologist and bioengineer who works at the interface of biology, physics, and engineering. His overarching goal is to understand how biological systems work from an engineer's perspective, and use this knowledge to manipulate cells and gene pathways to help cure diseases. On the technology front, his lab develops high-throughput and high-content single-cell analysis devices by integrating microfluidics and optics.
A main focus for Savas Tay in Chicago will be to understand the role of molecular pathway dynamics in cellular information processing, pathogen sensing and recognition, and signaling. His Lab performs precision dynamic measurements on living cells and develops predictive models of complex biological systems like the immune system. Such models can serve as a rapid test-bed for drug studies and genome editing applications.
Microfluidic technologies developed by the Tay Lab create realistic environments that mimic living tissue, and measure dynamic processes in individual cells with extreme precision and throughput, adding majorly to the systems biology push at the Tay Lab. Tay is also interested in translating such technologies to real-life biomedical applications.
His work on NF-κB, a key transcription factor that regulates thousands of immune genes, was published in leading scientific journals such as Nature, Cell and PNAS. He discovered that cells activate NF-κB in an all-or-none fashion, similar to a digital switch. Recently, he discovered that molecular noise improves cellular signal transmission, and showed how oscillatory inputs control transcriptional dynamics by synergizing with molecular noise.
Before becoming interested in biological research, Dr. Tay was an optical physicist. His achievements in optics include the development of the first updateable holographic 3-D display, infrared-sensitive holographic materials for optical communications and bioimaging, tunable photonic crystal devices, and plasmonic thermal emitters for infrared imaging.
Dr. Tay has received the highly prestigious European Research Commission ERC Starting Grant in 2013. He gave more than 100 invited talks and conference presentations around the world. He serves at the editorial board of Nature Scientific Reports. He regularly reviews papers for Nature, Cell, Nature Communications, ACS Nano, Lab on Chip, Nature Light Science, Nano Today, Angewandte Chemie, Optics Express, Biotechnology and Bioengineering, among others. His work in engineering and biology was featured in many media outlets including BBC, Bloomberg News, CNN, Discovery Channel, National Geographic, National Public Radio, Daily Telegraph, Nikkei, MIT Technology Review, EMBO Seven Stones, and Faculty of 1000 Biology.
---
Michael Junkin, PhD - Senior Scientist
mjunkin@uchicago.edu
​
PhD, Aerospace and Mechanical Engineering, Biomedical Engineering, University of Arizona, 2011
MS, Mechanical Engineering, University of Arizona, 2008
BS, Mechanical Engineering, Virginia Tech, 2002 (summa cum laude)

​
Research interest:
In the course of my work I study immunological aspects including cytokine signaling, cancer-immune interactions and methods to optimize drug treatment regimens. For this I develop high-throughput microfluidic devices that allow culturing and stimulation of systems ranging from single-cell cultures to organoids. I then analyze the dynamic and multiparameter data produced by these microdevices to model and understand temporal and systems-biological characteristics of immune functions.
---
Hsiung-Lin Tu, PhD - Postdoc

hltu@uchicago.edu
PhD, Chemistry, University of California, Berkeley, 2013
MS, Chemistry, National Taiwan University, 2005
BS, Applied Chemistry, National Chiao Tung University, 2003
​
​
Research interest:
I am interested in understanding (1) the potential source of cell-to-cell variability and (2) how the temporal modulation of input signal affects NF-kappaB signaling. In collaboration with Ce, we are developing microfluidic tools to study embryonic neuron stem cells.


---
---
---
---

Minjun Son, PhD - Postdoc

monster@uchicago.edu

PhD, Physics, University of Florida,

Gainesville, 2014

BS, Physics, University of Florida,

Gainesville,

2008

​

Research interest:

The NF-kappaB signalling governs the immune response in mammalian cells. Applying high-throughput microfluidic device and single cell analysis, I'm trying to answer how different combination or dynamic of environmental cues is interpreted by the NF-kappaB system. I'm also interested in developing high-throughput microfluidic device and image analysis.​
---
---
---
---
---
---